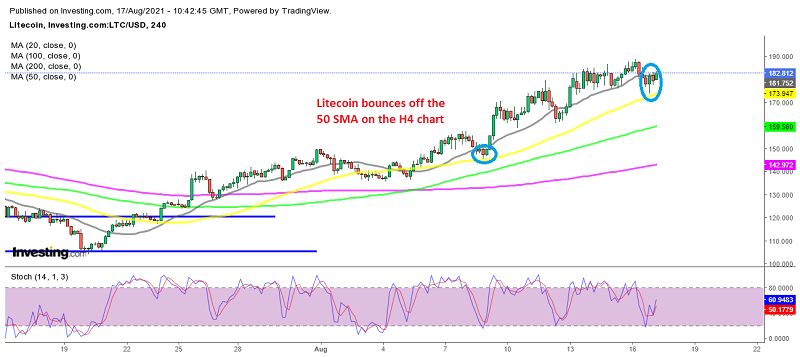 The pressure to buy in the crypto market is increasing. Volatility has risen steadily since the bullish reversal in late July after a quiet period earlier this month that worried crypto buyers that the July rally may just have been a retracement before resuming the bearish momentum of the past few months.
But that was not the case. Bullish momentum has resumed and cryptos have been marching higher non-stop. Litecoin has surged more than $ 80 since the turnaround and it doesn't look like it's looking down again as buyers keep pushing up after each pullback.
The 20 SMA (gray) did a great job providing support during the retraces lower on the H4 chart in late July. In August, the 50 SMA (yellow) acted as the ultimate support indicator, with the 20 SMA providing support whenever the trend has picked up.
LTC / USD
Pullbacks on the downside were fairly weak and short-lived, with buyers not waiting too long before getting in after each pullback. Who has hesitated too long with the purchase LITECOIN lost the opportunity as the up moves did not cause much lag and the uptrend continued to advance.
Yesterday we saw a pullback in the crypto market and watched Litecoin and Bitcoin to see if we could pull a trade on the long side. We refrained from opening a Litecoin buy signal at the 20 SMA, which has been providing support for the past few days, and wanted to buy LTC / USD at 50 SMA. But the reversal happened overnight and it was too fast that we lost the opportunity to go long on Litecoin. We are still tracking Litecoin to see if we can participate in that trade, even now after the jump so you can follow us on our live forex signals to see when we open crypto trades.