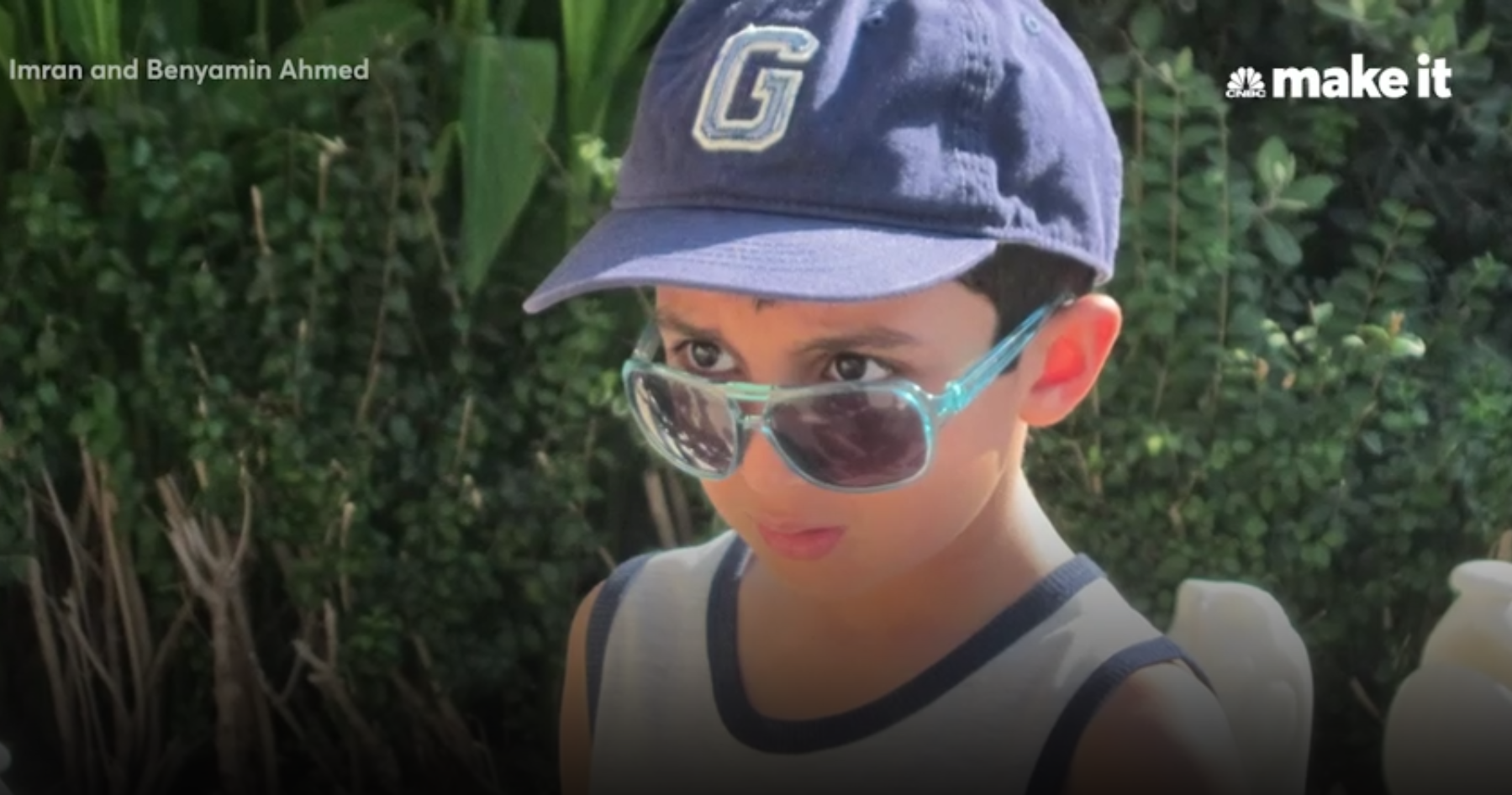 Benyamin Ahmed. Source: A Video Screenshot / CNBC
People say that crypto is complicated. But actually it's child's play – in the truest sense of the word. Whether nine-year-olds mining Ravencoin (RVN) with their brothers' game consoles or teenage Bitcoin (BTC) miners raking in $ 54,000 a month, the next generation is embracing crypto with unprecedented enthusiasm.
The youngest young prodigy to join the ranks of notable child crypto movers is a British 12-year-old who started programming at the age of five – and has since made $ 400,000 in Ethereum (ETH) and earned the sale of non-fungible tokens (NFTs). In addition, he has no intention of converting his coins into fiat because "people may not have bank accounts in the future – only ether wallets".
London-based boy Benyamin Ahmed began learning HTML and CSS, and later JavaScript, according to Telegraph and BBC and CNBC's Make It. But it wasn't until 2021 that he turned to the NFTs.
Ahmed said:
"I first heard about NFTs earlier this year. I was fascinated by NFTs because you can easily transfer ownership of an NFT over the blockchain. "
And Ahmed also offered some wisdom for like-minded teens who hoped to follow in his footsteps and "get into space" by following the coding route.
He explained:
"My advice to other kids who might want to get into this area is not to force themselves to code, maybe because you are under peer pressure – like you like to cook, cook, if you like to dance, dance, just do it as best you can. "
Ahmed stumbled upon gold (or ether) while creating a series of digital artworks he called Weird Whales during school holidays. He claims he's not a "natural artist," so he turned to YouTube for some tips on digital art. He then turned his creations into NFTs and sold them on the Ethereum blockchain for ETH, which he does not want to sell for cash.
The BBC seriously warned:
"This means [the tokens] could go up or down in value and there is no government assistance if the digital wallet it is in is hacked or compromised. "
As is so often the case with crypto prodigies, an eager parent lurks behind the story with no small amount of "encouragement". Ahmed's father, Imran, described as "a software developer who works in traditional finance," said that he got Ahmed and his brother to start programming at a young age and gave them "20 or 30 minutes of programming practice a day – even on vacation "given."
Ahmed said he created his first NFTs "after spending too many hours playing Minecraft," creating themed artwork and coding each item himself.
This first NFT collection came out on the OpenSea platform in early summer and included 40 Minecraft avatars. Although this line did not bear fruit "immediately", Ahmed "saw the project as more of a learning curve" and went on to develop his whale series – which certainly caused a sensation.
The project cost him $ 300, mostly gas fees on the Ethereum network. His father and brother helped promote the series on Twitter, and then, in July, tenders began.
The most expensive of the 3,350 units achieved a cool ETH 7.9 ($ 30,170), others were sold at similarly high prices.
The entire set sold out in just nine hours, earning Ahmed an ETH-80 win (USD 305,590). However, crypto has only just gotten rolling – on sales in the secondary market, he has earned ETH 30 (USD 114,567) from 2.5% license premiums.
Although he is only 12 years old, Ahmed is already speaking like an ardent ETH advocate and claims:
"I plan to keep all of my ether and not convert it to fiat money. It could be early evidence that not everyone may do it in the future [need] a bank account and only has an ether address and a wallet. "
All the best, as Charlie Brown used to say.
Ahmed's next project? A meme-themed NFT series.
He concluded:
"I think memes have significant value in this area as many projects have some kind of meme link."
Someone is already calling Vitalik.
____
Learn more:
– 9 and 14 year old Bitcoin, ETH and RVN miners "earn $ 30,000 per month"
– Teacher 'threatened students with gun' after suffering bitcoin loss
– Teen Bitcoin Star: Get Rich or Die Trying
– 11-year-old crypto prodigy revolutionizes coins for gaming
– A top NFT project generates more than USD 115 million in sales in one week
– Cryptoverse reacts: Visa could become "front-end for Ethereum", NFT sales explode