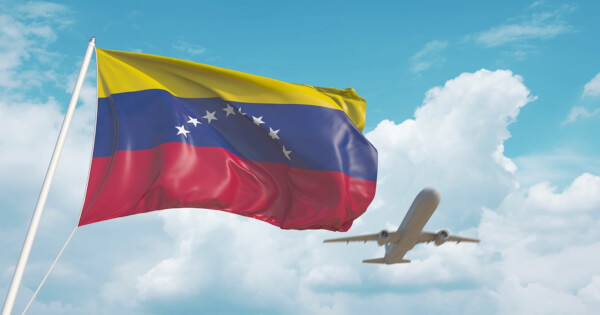 Venezuela's main airport is reportedly preparing to accept cryptocurrencies as payment for tickets and other services.
Simon Bolivar International Airport, Venezuela's largest airport and known as Maiquetia, recently announced it would add Dash, Bitcoin, and Petro as a payment method for customers purchasing airline tickets and other services.
Freddy Borges, the director of Maiquetia Airport, spoke about the development, saying the airport plans to accept multiple cryptocurrencies, including Bitcoin, Dash, and the Venezuela-based pegged digital currency, Petro – a digital currency issued by the Venezuelan government.
Borges said the plan aims to make payments more universal and modern.
He also stated that the airport administration would set up a payment process for crypto assets in accordance with the requirements of the local regulator Sunacrip – the Venezuelan cryptocurrency watchdog.
"We have to move forward in these new economic and technological systems in order to be accessible. In coordination with Sunacrip, we will activate a button for cryptocurrency payments in the airport platforms and commercial activities.
Simon Bolivar International Airport is located in downtown Caracas, the capital of Venezuela, and typically receives more than two million passengers passing through the facility each year.
Borges mentioned that the introduction of cryptocurrency payments at Simon Bolivar International Airport would meet the company's commitment to meet international standards and drive the adoption of digital currencies. He went on to say that foreign tourists, including those from Russia, would benefit from it the possibility of payment in cryptocurrency.
The digital circulating bolivar
When the inflation rate in Venezuela is high, almost nobody wants to pay with cash anymore. This phenomenon explains why cryptocurrencies are generally used more in the country than in almost any other nation. Cryptocurrencies are supposed to make everyday life in Venezuela much easier.
More and more Venezuelans are investing their savings significantly in cryptocurrencies and everyday payments are increasingly being made with Bitcoin and other digital currencies.
Blockchain analytics firm Chainalysis recently ranked Venezuela 3rd in the world for daily use of cryptocurrencies.
Venezuela's central bank has revised its national currency, the bolivar, and experimented with the digital central bank currency (CBDC) – the Venezuelan digital bolivar.
On October 1, the central bank launched its CBDC (the Petro, an oil-backed cryptocurrency introduced by the government in February 2018) in circulation.
For the hyperinflation facing Venezuela, the introduction of the centralized digital currency is seen as a temporary solution to the country's cash dispensing problems.
Image source: Shutterstock